POULTRY

DAIRY PRODUCTS

Delactosed wheypowder
Sweet and acid wheypowder
Lactose

Specific dairy concentrates for poultry (to use during vaccination)
ADDITIVES
To fight the presence of micotoxins in the cereals and in the poultry feed, we are offering the following micotoxin binders :
- ALUMICO : an economic micotoxin binder based on aluminium silicate
- SIMICO : a large Spectrum micotoxin binder based on clays and yeast
- MICOSEV : a cell yeast based micotoxin binder
- PROSIBIO : micotoxin binder based on clays and yeast
- LIMICO : a liquid micotoxin binder specially developped for poultry - to be used in drinking water for a better efficiency and an easier use in poultry farms.

HERE & THERE is also offering a full line of acidifiers

but also, a liquid supplement range for poultry (to prevent hepatic, respiratory problems, to bring more calcium...)

HERBAL PHP : a natural answer to digestive problems of poultry.
VITAMIN AND MINERAL PREMIXES
According to your own formulation, we can prepare the best premix formulation for your broilers, ducks.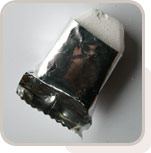 DISINFECTANTS
For building disinfection

For drinking water disinfection (liquid and tablet form) easy to use